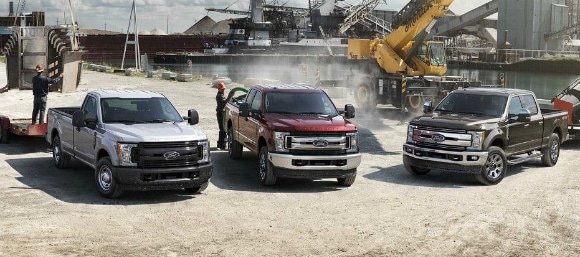 | | |
| --- | --- |
| Engine oil | 7,500 miles |
| Cabin Air filters | 15,000 miles |
| Oil filter | 7,500 miles |
| Engine Air Filter | 30,000 miles |
| Coolant | 105,000 miles |
| Spark plugs | 97,500 miles |
| Automatic transmission fluid | 150,000 miles |
No matter which iteration you have of the Ford SuperDuty trucks, you depend on it every day for everything from your dirty work to your errands. Your Ford F-250 isn't just a truck: it's may be your mobile office, or the way you get from job site to job site. To keep it dependable for longer, stick to its scheduled maintenance intervals. This will help keep it the same wonderful ride you've become used to. The Ford service experts at our Arlington WI service center are happy to help you with any of these tasks! We're just a phone call away.
Learn more:
Be sure to check your individual owner's manual for your specific model's service intervals, but if you think it's about time to bring your Ford F-250 in for maintenance, come on by! Schedule a service appointment today at our Arlington WI Ford dealer by calling (877) 807-8842.
.